TORONTO, ON, Canada. For immediate release:
At approximately 1:00 a.m. local time on April 1, 2006, the official web-site of Etobicoke Collegiate Institute, ECIWeb.org, was compromised by unknown individuals, presumed to be students or staff from Richview Collegiate Institute. For about 12 hours, visitors to ECIWeb.org were greeted with a sinister message, proclaiming
"RICHVIEW RULES!!!!"
. We commend the actions of the ECIWeb.org network and server operators, who worked overnight to restore normal access to the site.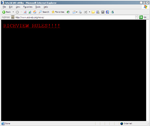 "The attack was a carefully planned and calculated assault on Etobicoke Collegiate Institute. These people knew what they were doing, and caused a lot of damage", said Klaudia Pawlak, the head of the security team hired to examine the incident. "It's not fully clear at this time how they were able to break in, however we do know they left behind several rookits and trojan horses, perhaps to allow for more attacks in the future. We are now working on finding them and eliminating them from the system." She also added that no personal data on students or staff of Etobicoke Collegiate was compromised due to the excellent security measures in place on ECIWeb's database servers.
K. Robinson, Principal of Richview Collegiate Institute was unavailable for immediate comment.
The responsible individuals will be punished to the full extent of the law. If you have any information that may help the authorities in their investigation, please do not hesitate to
contact us
.
Thank you for your understanding and continued support.